Zirconium/Lava
The aesthetics and bio-compatibility of Zirconium Oxide (Copran) restorations represent the optimum in all-ceramic systems. Preparations can often require the removal of less tooth structure than some other all-ceramics and cementation can be accomplished using proven conventional techniques.
The frameworks are translucent and natural in colour which aid the vitally of the finished restoration. At 1300mpa it is the most durable and aesthetic all-ceramic product available. Suitable for crowns, Maryland bridges, and small and large bridges alike.
Available also as Full Anatomical Translucent Zirconia, where space is limited.
e-max
ips e-max press, is a highly aesthetic lithium disilicate glass ceramic available in 3 levels of translucency providing predictable shade matching. Its optimised homogeneity enables us to create accurately fitting restorations and with a heightened strength of 400mpa it is unrivalled by any other glass-ceramic. Suitable for crowns, veneers and inlays.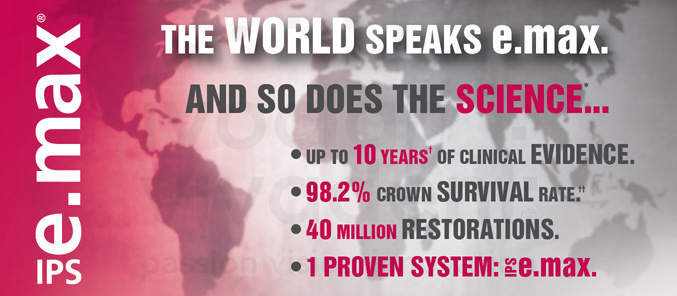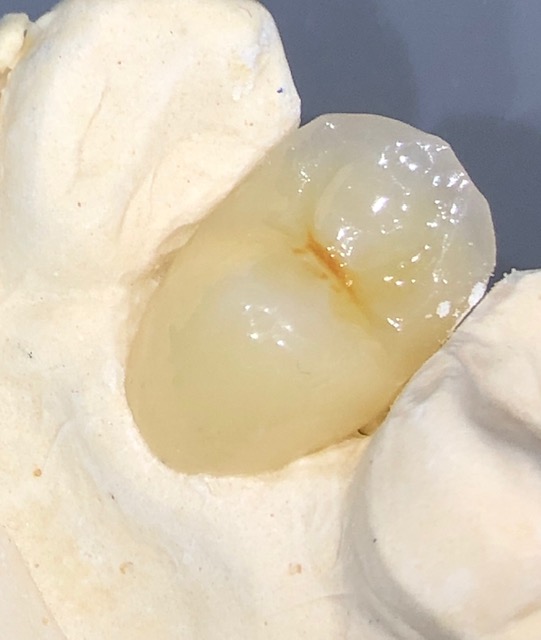 Gradia
Gradia Micro Ceramic Resin, has a high strength due to its hybrid MFR formulation. It has excellent bio-compatibility, wear resistance and flexural strength; this makes it ideal for inlays and high pressure restorations that could be prone to chipping/cracking when made from other products. Suitable for crowns, veneers and inlays.
Implants
Whether you need a single restoration or a large bridge, implants are a very viable and practical option. We work currently with the following implant systems: STRAUMANN, ANKYLOS, BIO HORIZON, ASTRA-TECH and BICON. We continue to undergo training so we are up to date with the current and up and coming systems and technology, so we can provide the client with the best possible solutions. Suitable for crowns and bridges.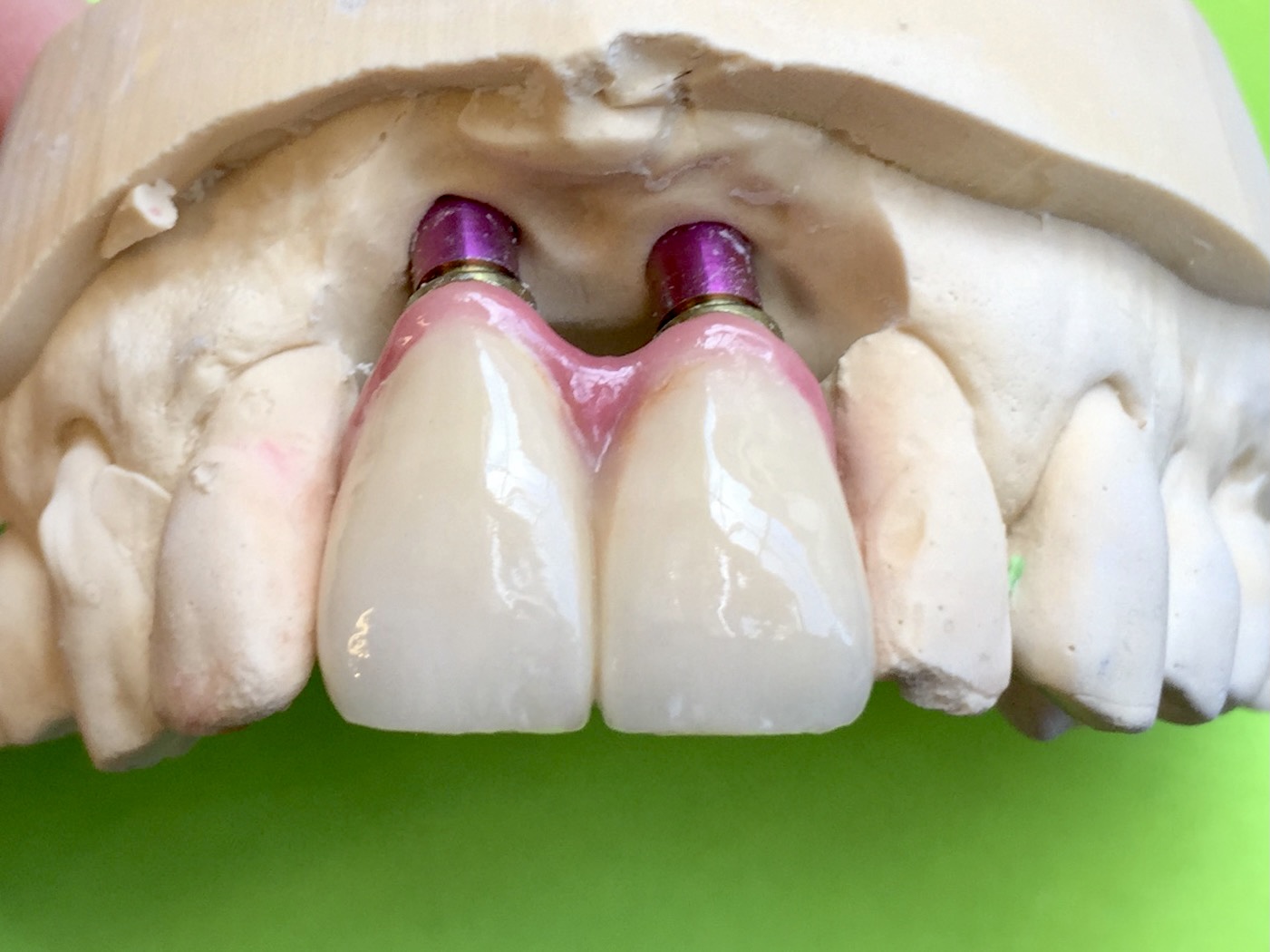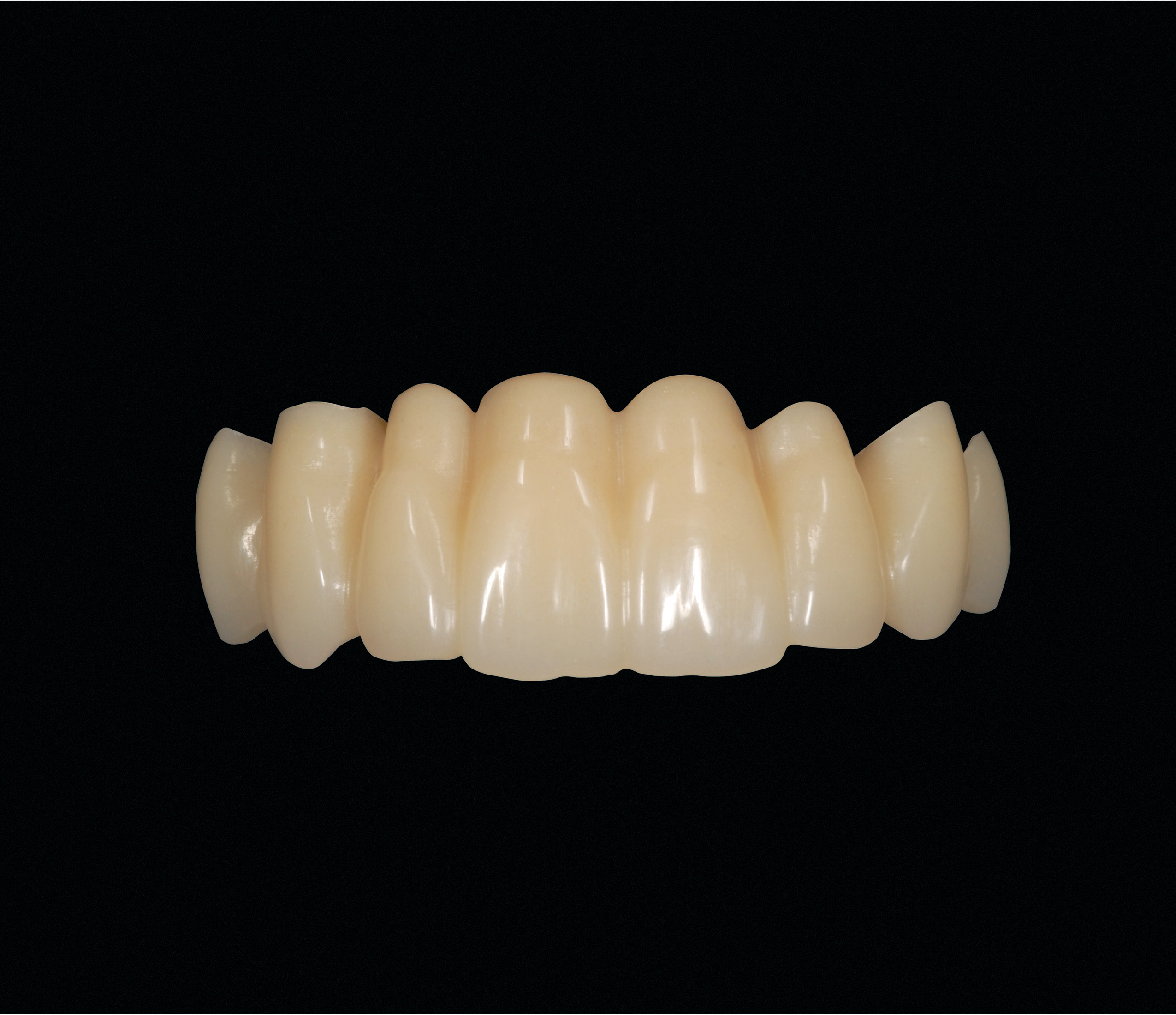 Temporary Bridgework
For Temporary Bridgework, we now prefer to offer Cad Cam Milled PMMA Temporaries; and this is preferred choice for many of our clients. The strength of this product means its ideal for larger bridges and long term cases, whilst the patient is awaiting implants for example.
Porcelain Bonded
Porcelain fused to metal has remained one of the most predicable, functional and reliably strong choices for both Crown and Bridge restorations especially in the posterior area of the mouth. For an increased bond and durability we strongly recommend the use of a precious alloy. They remain our first choice for implant cases. Suitable for crowns and bridges.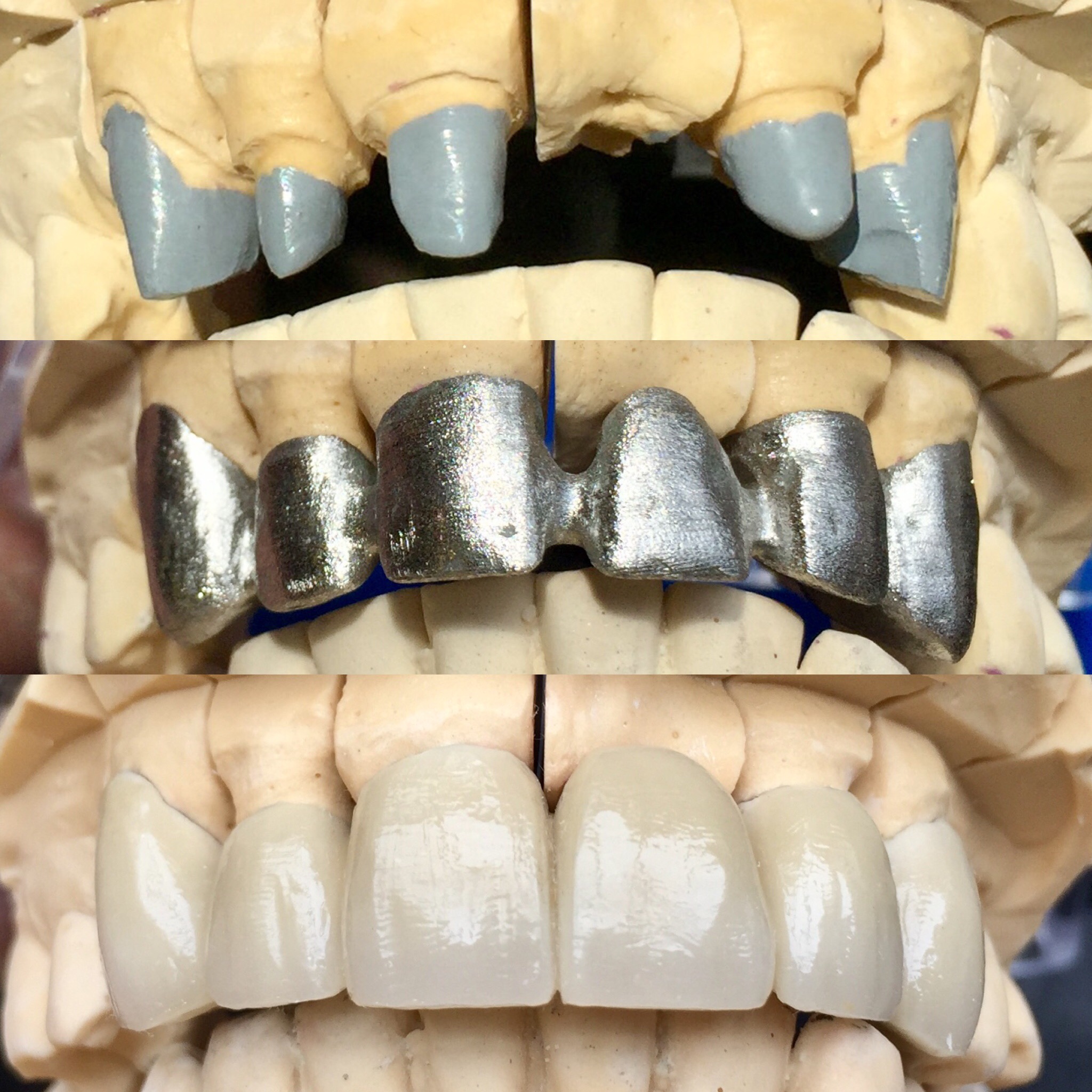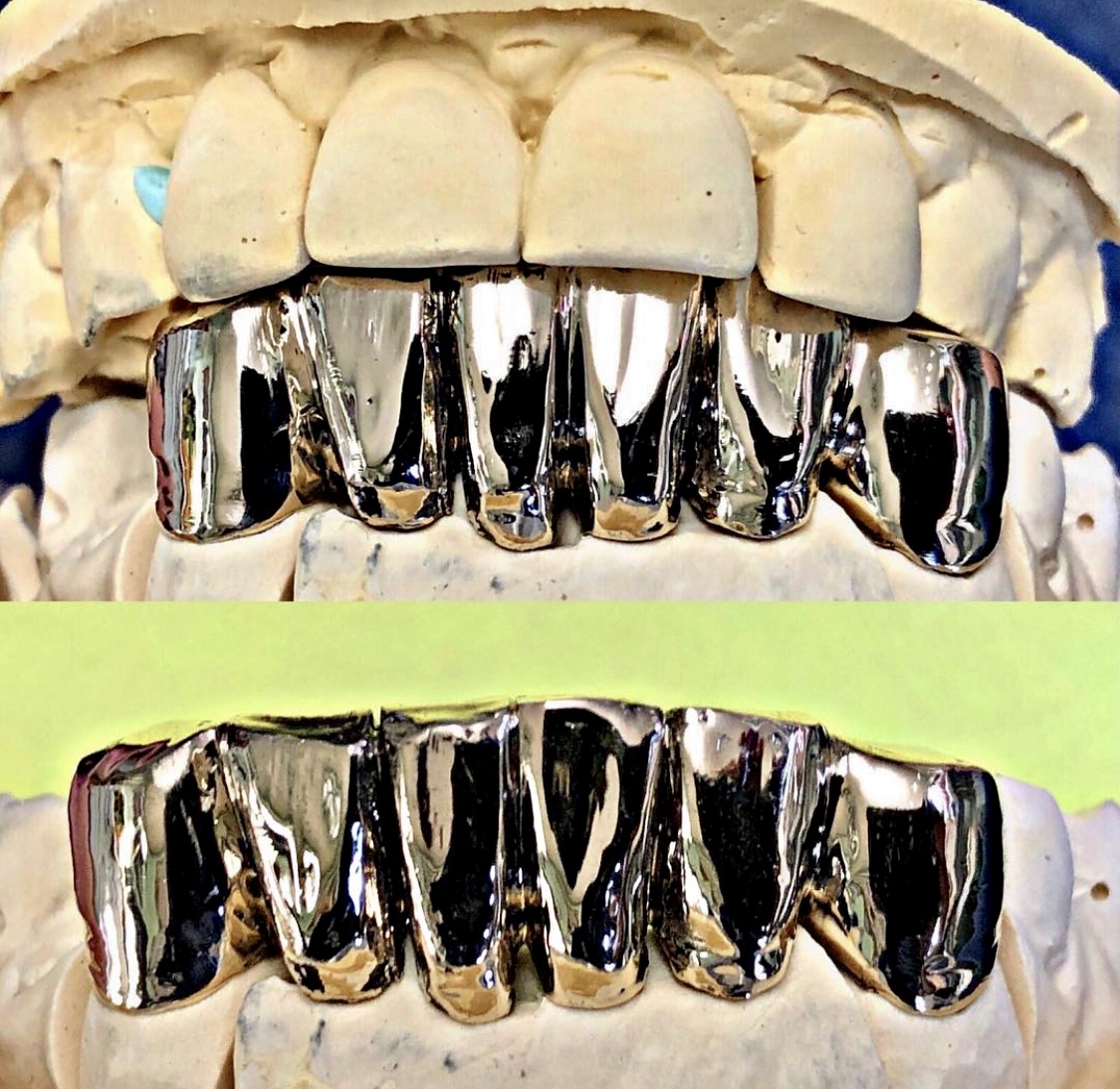 Gold
By offering the patient cast Gold restorations namely crowns and inlays, they are being furnished with durability and wear resistance that is unsurpassed. We are well trained on the intricacies of working with cast metal and attended numerous courses on this subject, so the patient will be able to enjoy their quality restoration for years to come. Suitable for crowns, and inlays/onlays.
Mouth Guards
Sports Guards We produce pressure formed 2mm clear blanks with a 4mm coloured blank over the top. Ideally with a lower impression provided, we imprint the lower dentition into the sports guard to lock the jaws in place, thus creating an even more bespoke, comfortable and safe device. We can also add the wearers name on the inside. There are many designs that are possible including, stripes, glitter effects, marbled affects, checks, national flags, and all in almost every colour combination you could imagine.
Night Guards Soft 2mm blanks are used to create upper or lower Night Guards. In extreme cases of grinding we can use 3mm or 4mm if required. All mouth guards are supplied with a case.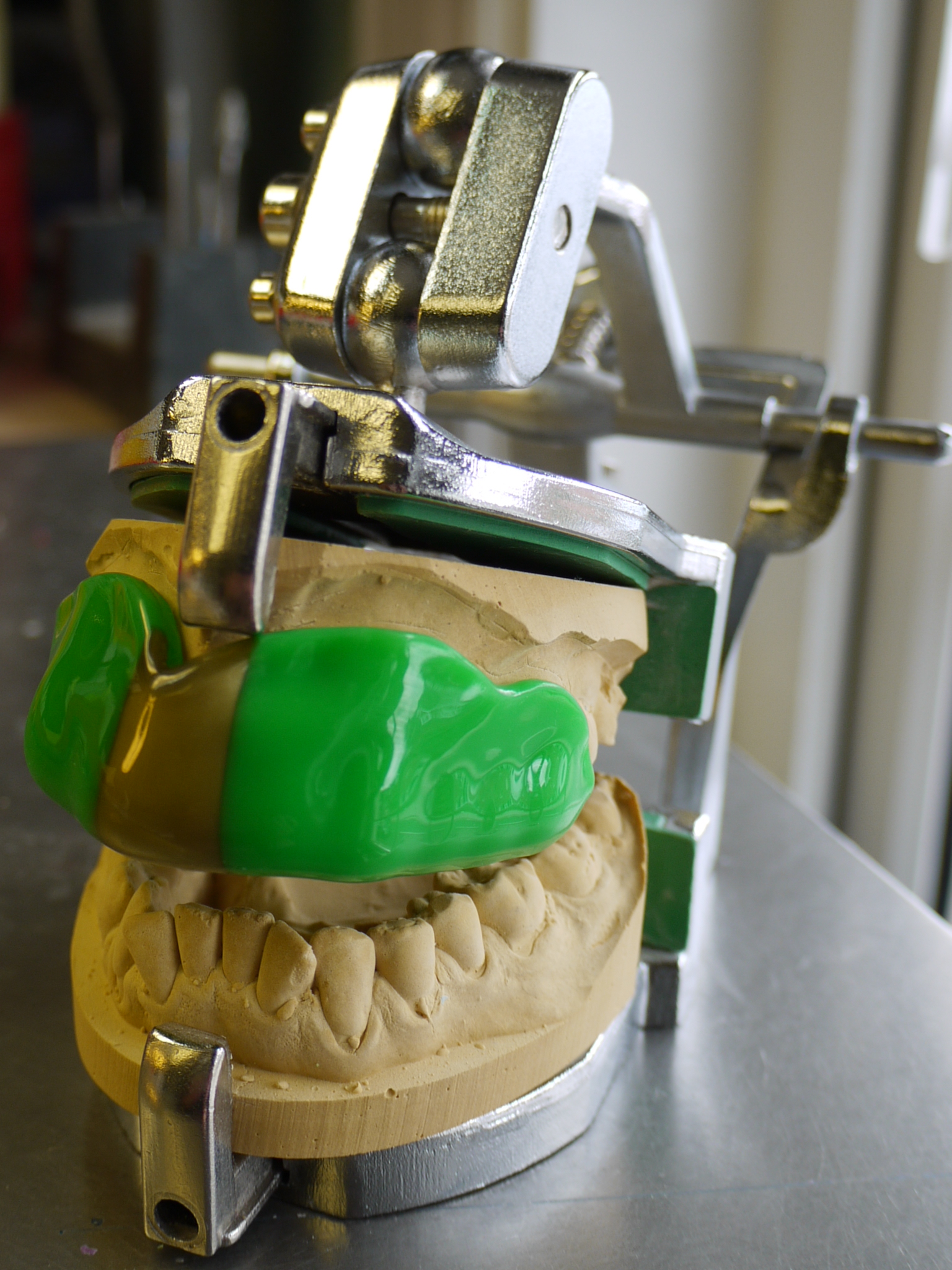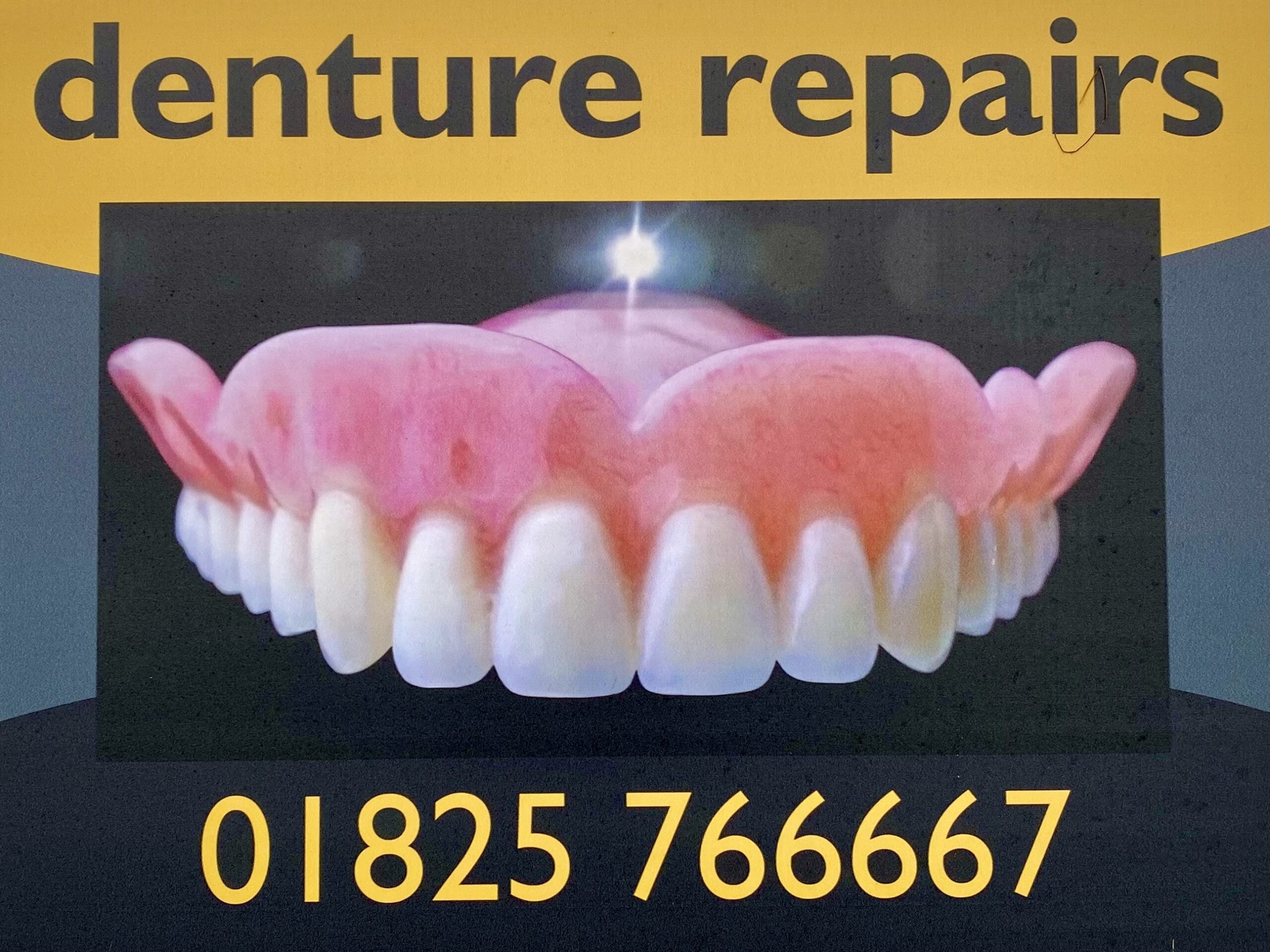 Denture repairs
With all technicians having full experience in prosthetics, we are able to provide a denture repair service to the public. Although we cannot alter or make dentures, we have proved invaluable as an interim measure when the alternative is for the client to be without a Denture.
Dental Wings
The 3Series is an entry level plaster model scanner delivered with the DWOS crown and bridge application as basic configuration. It offers the ultimate flexibility for the lab wishing to embrace CAD/CAM technology at its own pace,
while keeping costs to a minimum. As the business grows and requirements expand, complementary applications can be installed as needed.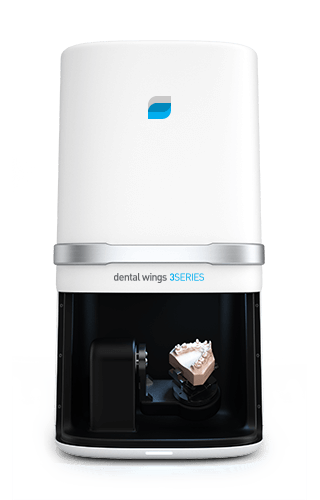 Interested working with The Dental Lab?